Introduction
Insumo revolutionizes bearing technology for rim drive thruster applications. With its innovative approach, Insumo transforms the way bearings are designed and manufactured for rim drive thrusters, making them more efficient and reliable than ever before. The company's groundbreaking technology will set a new standard in the industry, providing unparalleled performance and durability for demanding applications.
For over 8 years, Insumo has dedicated extensive research to overcome the inherent vulnerabilities of rim drive thrusters. This commitment to innovation has culminated in the launch of the next generation rim-driven electrically propelled thruster on June 20, 2023, at the Electric & Hybrid Marine Expo Europe 2023 in Amsterdam. This groundbreaking technology represents a fundamental shift in the way these thrusters are designed, setting a new standard for the industry.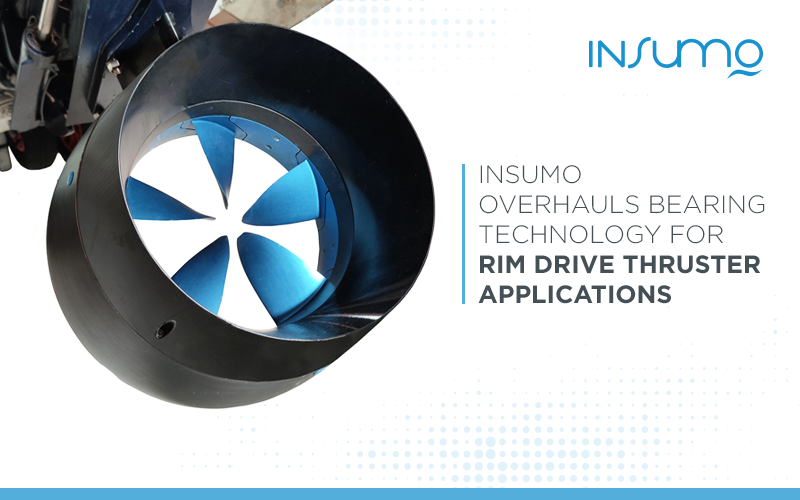 Magnetic Levitation
Insumo transforms bearing technology with its innovative approach. By replacing vulnerable mechanical bearings with magnetic levitation, Insumo introduces a game-changing concept that enhances wear resistance, energy efficiency, and stability. For the radial bearings, the new solution employs magnetic forces to keep the rotor in position, offering a long-lasting and stable alternative to mechanical bearings. In addition, Insumo has implemented a unique solution for the axial bearings by combining hard and soft materials, resulting in a longer lifetime compared to using just hardened bearings.
For more details about the innovations, visit the Insumo website https://insumo.nl.
Insumo aims to make this technology available to Original Equipment Manufacturers (OEMs) seeking to deliver superior solutions to their customers. By partnering with Insumo, OEMs can leverage Insumo's expertise and innovative solutions to create game-changing products that will impact the marine industry.
According to Bauke Kalma, the Chief Technology Officer of Insumo, the company's success in developing its innovative bearing technology can be attributed to the expertise of its highly skilled team. With a deep understanding of material science, software, and physics, among other disciplines, Insumo has synthesized these fields into a unique product that will enable their customers to create exceptional products while promoting sustainability in the shipping industry.
Silent, Resilient, Sustainable
In 2015, Insumo embarked on a journey to research sustainable alternatives to petrol-based engines with the aim of making shipping more environmentally friendly through clean and silent propulsion systems. The company's focus on cleantech and deep-tech, including the revolutionary rim-drive technology, has the potential to benefit the entire industry.
Insumo is committed to offering a range of propulsion options, from low to high power, utilizing its highly capable technology. Insumo has set its sights on establishing the technology standards for this domain.
The office and lab of Insumo are located in Leeuwarden, the Netherlands.